Did you know that your Internet Explorer is out of date?
To get the best possible experience using our website we recommend that you upgrade to a newer version or download another web browser.
A list of the most popular web browsers can be found below. Just click on the icons to get to the download page.
Your browser will need to close to complete the installation and you will need to manually reload the site when finished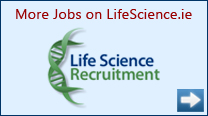 Life Science

Life ScienceRecruitment is a specialist science recruitment agency with a specific focus on the recruitment and selection of professionals for the pharmaceutical, biotechnology, healthcare, clinical research, medical device, engineering and scientific sectors in Ireland. Whether its science jobs, pharmaceutical jobs, biotechnology jobs or a job in clinical research you're looking for, our consultants are industry professionals strategically placed in the best position possible to help you achieve your dream position.


At Life Science Recruitment we understand your needs and are committed to helping you to move forward in your career. Our philosophy is simple; life scientists recruit life scientists, chemists recruit chemists etc. - you know you are speaking to a peer who understands where you're coming from and can advise on the best route forward in your new career.

Life Science Recruitment's mission is to bring specialist recruitment to the next level, with a fresh novel outlook combined with creative thinking to provide the best possible quality of service and standards in Irish recruitment

Life Science has the following jobs posted
Job Title.
Location
Salary
Actions

Regulatory Global Scientific Communications

Associate / Sr. Associate - Regulatory - Global Scientific Communications Purpose: The purpose of the Scientific Communications Associate - Regulatory role is to work with cross-functional, multidisciplinary teams to lead the development of documents intended for regulatory audiences (including, but not limited to, clinical study reports, briefing documents, regulatory responses, Investigational New Drug Applications, and marketing authorization applications). 1.Content Strategy and Execution: Document Preparation, Development and Finalization%...

Location: Cork, Cork City, Regulatory Global Scientific Communications
Cork
Not Disclosed

Quality Engineer

Role: Quality Engineer Location: Mullingar, Westmeath (On site) Benefits: Good salary, pension, healthcare and yearly bonus. Company: My client are an exciting business located in a modern state of the art facility in Mullingar Co. Westmeath. Passionate about serving the world's medical device and allied healthcare industries in offering a range of the highest quality innovative healthcare packaging solutions. Role: Reporting to the Senior Quality engineer and/or Quality and Regulatory Director the Quality Engineer will work in collaboration with the s...

Location: Athlone, Cavan, Dublin, Kildare, Longford, Quality Engineer
EU
Not Disclosed

Quality Compliance Lead

Our client is a global healthcare leader with leading businesses and products in diagnostics, medical devices, nutritionals and branded generic medicines. They serve the Irish market with a diverse range of healthcare products including diagnostics, medical devices and nutritionals products. This plant in Donegal manufactures blood glucose test strips and sensors for use in diabetes management. They are currently seeking a Quality Compliance Lead who's main responsibility shall be to lead Site Audit Readiness and be a member of the Quality Systems team in the Quality D...

Location: Donegal, Quality Compliance Lead
Donegal
Not Disclosed

Senior QA/RA Specialist

Senior QA/RA Specialist Our client a newly established Medical device company are currently seeking a Senior QA/RA Specialist to join their team. Reporting to the Head of Quality the QA/RA Specialist will assist Head of Quality in implementing new Quality Management Systems, establishing entity as a legal manufacturer and supporting the development of their new Product portfolio. The Senior QA/RA specialist will have strong knowledge of regulatory processes for EU and FDA product clearance and experience of quality in the context of R&D and design ...

Location: Galway, Senior QA/RA Specialist
Galway
Not Disclosed

Quality Manager

Our client is a leading Irish Pharmaceutical organisation in the area of Animal Health. Since their inception, over 40 years ago, they have succeeded in manufacturing, registering and marketing a diverse range of products in over 40 countries worldwide. Their products range from sterile injectables, intramammary, anthelmintics, oral powders, premixes and nutritional supplements providing cost-effective superior treatments for a range of conditions. Due to internal promotion & expansion they have a position for a Quality Assurance Manager who will head up thei...

Location: Cavan, Quality Manager
Cavan
Not Disclosed

Senior Regulatroy Affairs Specialsit

Senior Regulatory Specialist Our client a well funded high potential medical device start up are currently seeking experienced regulatory professional top join their team. The Senior Regulatory Affairs Specialist will work closely with a cross-functional team to obtain the regulatory approvals/clearances needed to support clinical and commercial use of an innovative new therapy. Role/Responsibilities Support and advise the VP Quality and Regulatory Affairs by executing regulatory activities and developing regulatory strategies to support...

Location: Galway, Senior Regulatroy Affairs Specialsit
Galway
Not Disclosed

Associate Director, Clinical Quality & Compliance

Our client is a leading Global Biopharma with a Clinical Trial Centre of Excellence based in Dublin City Centre. They play a crucial role in developing life-saving therapies as they strive to cure unmet medical needs. They are global leaders in the development of therapies in the areas of Infectious Diseases, Oncology & Inflammation. They are looking for an experienced Associate Director with extensive GCP auditing experience to join their Clinical Quality Business Partner team who is ready to dive-in to support their therapeutic areas and clinical development programs. In this ...

Location: Dublin, Associate Director, Clinical Quality & Compliance
Dublin
Not Disclosed

Medical Device Director

Our client a Medical Devcie notifeid body are currently seeking Director of Medical Devices to join their team. The Director of Medical Devices will have overall leadership repsonsibility for European and US Medical Division and provide leadership and strategic guidance. Role can be based in Dublin or Galway and can provide hybrid Roles/Responsibilities Responsible for European and US Medical Device Division Manage resources for Global Medical Device division Responsible for department KPIs and all certifications filed Oversee global audit team planning Mem...

Location: Republic of Ireland, Medical Device Director
Republic of Ireland
Not Disclosed

Regulatory Affairs Director

Regulatory Affairs Director Our client a global healthcare company is currently seeking a Technical Device Regulatory Affairs Director to join their team. Director will be responsible for all aspects of Regulatory Affairs for their portfolio of devices Role/Responsibilities: Accountable to define device regulatory requirements and regulatory strategy to development teams to ensure readiness for medical device (MD) and combination product (CP) approvals. Critically review, approve, and lead strategy for global regulatory submissions for device compo...

Location: Dublin, Regulatory Affairs Director
Dublin
Not Disclosed

Regulatory Affairs Specialist

Regulatory Affairs Specialist (Remote/Hybrid) Our client a high potential start up medical device company currently seeks a Regulatory Affairs Specialist to join their team. Reporting to the Clinical and Regulatory Affairs Manager, the Regulatory Specialist will be responsible for helping with compliance to standards, regulatory submissions and annual reporting to the notified body and FDA. The Regulatory Affairs Specialist must have a working knowledge of medical device regulatory requirements and standard practices in the medical device industry. This position re...

Location: Cork, Regulatory Affairs Specialist
Cork
Not Disclosed

Senior Regulatory Affairs Specialist

Our client a medical device start up are looking for a Senior Regulatory Affairs Specialist to support the product development of a cutting-edge device through design development, verification, clinical trials, validation and regulatory approvals. This position can be fully remote. Role/Responsibilities Provide regulatory guidance to product development team, working closely with cross-functional team members to develop and implement the regulatory strategy. Lead the development, submission and maintenance of high quality clinical and regulatory files to the relevant...

Location: Dublin, Senior Regulatory Affairs Specialist
Dublin
Not Disclosed

Senior Regulatory Affairs

Our client a growing medical device organisation currently seeks a Senior Regulatory Affairs Specialist to join their team. The Senior Regulatory Affairs Specialist will be responsible for all regulatory activities including product certification and compliance, and for supporting the ongoing maintenance, audit and continuous improvement of specific elements of the Quality Management System Role/Responsibilities Manage the regulatory and vigilance process. Prepare regulatory submissions for required markets coordinating input from other stakeholders, tr...

Location: Galway, Senior Regulatory Affairs
Galway
Not Disclosed

Senior Regulatory Affairs Specialist

Senior Regulatory Affairs Specialist Our client a Medical Device Multinational currently seeks a Senior Regulatory Specialist to join their team. The Senior. Regulatory Affairs Specialist will develop strategies and submissions for complex projects and issues related to regulatory documents, submissions, investigations, product development planning and regulatory agency interaction. The Sr. Regulatory position will assist in mentoring and development of staff members as part of the role. Role/Responsibilities • Manage Technical Documentation ...

Location: Westmeath, Senior Regulatory Affairs Specialist
Westmeath
Not Disclosed

Senior Regulatory Affairs Specialist

Senior Regulatory Affairs Specialist Our client a high potential medical device start up current seeks a Senior Regulatroy Affairs Specialist to join their team. Reporting to the Director of Quality and Regulatory Affairs the Senior Regulatory Affairs will take an active role in developing the Regulatory strategy in Europe and the US and interacting with the relevant Regulatory and Notified Bodies. They will also be required to help maintain the Design History Fileof Class III implant. This position offers the opportunity to join in an exciting early stage company developing a...

Location: Dublin, Senior Regulatory Affairs Specialist
Dublin
Not Disclosed

Subscribe RSS feed for this search